Offshore Wind Farm, Substation Structures
Westermost Rough Offshore Wind Farm – Onshore Substation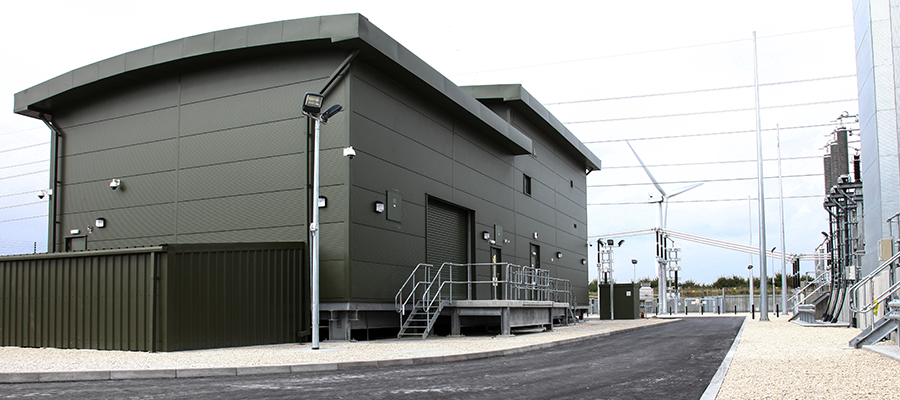 Kelvin Power Consultants were appointed by DONG Energy to provide design services and site services for the onshore substation associated with their 210MW offshore wind farm at Westermost Rough.
Design Services
During the early planning stages of the project Kelvin Power Consultants provided the following services:
Lead a Task Force set up by senior DONG Energy directors to carry out site selection work on six possible substation locations. Work included substantial design and layout input, advising on planning consultancy issues and planning constraints, dealing with archaeological and environmental constraints and negotiating, agreeing and delivering all the necessary legal agreements and option agreements on the four sites. Kelvin Power Consultants also chaired regular meetings with key stakeholders, the LPA, Councillors and also internal meetings. The Task Force was a success with planning permission obtained and delivering the site on time and to budget
Preparation of civil works tender documentation for the substation
Topographical survey of the proposed substation site.
Management of ground investigations for the site
3D visualisations
Supporting information for public consultations
Planning drawings and documentation
Following successfully securing planning consent for the substation, Kelvin Power Consultants produced full detailed designs for the onshore substation including:
Primary Plant Layouts
Earthing Layouts
GIS Building design to incorporate horizontal GIS equipment, avoiding the need for cable basements.
Building services design
Civil design (piled foundations due to poor ground conditions)
Elevated transformer bunds due to potential risk of flooding
Precast concrete fire wall
Site Roads
Drainage
Security Fencing
Substation Site Services
Kelvin Power Consultants allocated one of their QS team to be based on site to oversee cost control and contract administration.
We also provided an onsite designer participate in value engineering exercises and HV Installation Manager to coordinate the construction activities and the electrical packages.
The substation site was required to fit within a very small footprint and to assist the planning of the construction phase activities in such a small space, Kelvin Energy produced a 1:20 scale model of the proposed substation site. Further details can be read here
Project contact: James Walker
James is our Substation Layout Design team leader and Technical Director of Electrical Engineering. James has over 20 years' experience with substation projects and has previously worked with international power companies. James' knowledge and attention to detail with regards to substation layouts is highly valued by our clients. James' substation design experience allows him to effectively manage the production of substation primary plant layouts and elevations, HV cable route studies and bespoke equipment support structures used in electrical substations.
Kelvin Power Consultants